(Here is a little kudo from a new fan)
From: Taylor, Cathy
Subject: Photos from Peace Bridge
Date: April 18, 2016 at 9:09:54 PM MDT
To: "'linda@kitchin.ca'" <linda@kitchin.ca>
Hi Linda,
I asked Saturday night if I could take your photo on the Peace Bridge. I thought you might appreciate having copies.
My daughter was tickled that you played "Jump" when she and her friends were trying to get a photo of the four of them jumping together.
Thanks for a magical experience for us and our Danish exchange students on their final night in Calgary.
Cathy Taylor,  MEDes
Project Manager, Centre City Team
Urban Strategy Department
The City of Calgary
(Photo: Cathy Taylor)


(Here is a blog profile of me written by Karl Magi on Wizzley)
Musician Profile: Linda Kitchin, Calgary AB
by Krlmagi
Linda Kitchin plays a diverse range of music from bluegrass to tango to Eastern European folk music along with her musical collaborator Darcy North in a band called Fromage Chaud.
Growing up with a mother who was a piano teacher, it was inevitable that Linda Kitchin's first musical experience was with the piano. Although she persisted with her piano lessons, she found them dull and difficult. The music she really wanted to play came from an unlikely source. Kitchin explains, "My grandmother had been a polio victim and these gals would come in to help her. They all played piano in church but in their spare time they liked to play boogie woogie and blues. That's what I wanted to play!"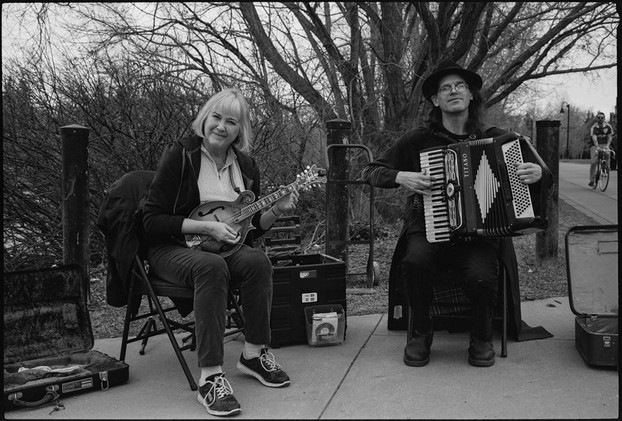 Linda Kitchin (right) and Darcy North (left) busking in the park.
Kitchin stopped her piano lessons when she was 12 but she continued in her desire to make music. Eventually, after her best friend started guitar lessons, she was drawn to the instrument. She says, "Her guitar teacher was a session jazz guitarist and he could play. I wanted to be able to play like him! I had to convince my parents that I should play guitar which they weren't fond of. They did buy me a guitar eventually."
Although it was a very poor quality instrument, Kitchin continued to learn how to play it.  She persisted and began the musical journey that she is still on today.
During this time, Kitchin started making trips into New York with some older friends who drove.  Eventually she discovered the famous Folklore Center run by Israel (Izzy) Young. One of the experiences she had there shaped her interest in the mandolin.  She explains, "David Grisman was working there and that's the first time I saw anyone playing a mandolin. He'd wear it while he worked and practice scales. I thought it was a pretty cool instrument."
Another musical experience that profoundly affected her was hearing Doc Watson and Mississippi John Hurt playing together at the Folklore Center. She says, "I was in the Folklore Center on a weekday, in the summer and the place was almost empty. I came in and Doc Watson and John Hurt were just hanging around there. They invited me to sit down and listen to them play.  It was incredible to see those two just play. I was so hooked!"
Another formative experience for Kitchin was hearing Bill Monroe's band play in Bucks County, Pennsylvania while she was in high school.  It was a mind-blowing experience for her to hear his mandolin playing. She also learned an important lesson about the power of music that day. She says, "He was playing in Amish country and the audience was mostly Amish. Bill Monroe started to play and you could have heard a pin drop. It was so freakin' quiet! The minute he stopped, the place erupted and they were clapping and cheering wildly!"
The instruments that Kitchin plays have their own history. She still has her mandolin and guitar that she acquired in those early days.  The guitar is a 1953 Martin D-28 that she bought at the Folklore Center. Her mandolin literally fell into her hands. Kitchin found it at a second hand furniture store in the town in which she grew up. The owner of the store sold it to her for two dollars because he didn't know what it was. That mandolin turned out to be an early Gibson A4. Now Kitchin plays two mandolins built by Michael Heiden in 1985 and 1987.
After moving to Calgary, Kitchin had been away from music for several years. When she started going to a local venue called "Buck Dancer's Choice" where the musicians hung out, she rekindled her love of the music and her desire to play it. She became a founding member of the Foothills Bluegrass Music Society and the Nickelodeon folk club which are both still running today.
She also met her current husband during the same time period after booking music for him at the venue he owned that was called Kensington's Delicafé.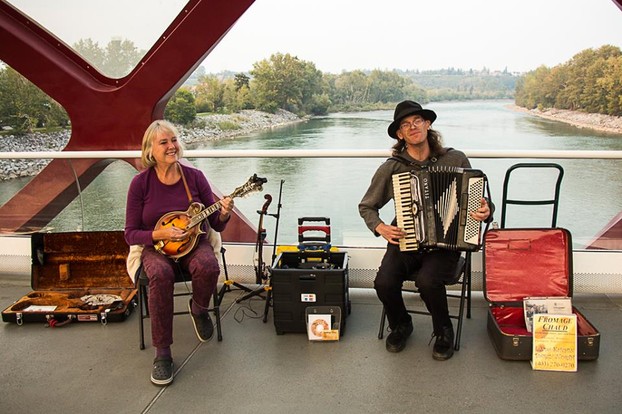 Linda Kitchin and Darcy North playing on the Peace Bridge
The latest musical endeavour in Kitchin's long career is a duo called Fromage Chaud with a talented accordionist named Darcy North.  She first met him when he came to hear her Celtic band, Stealth, playing at the King Henry where they had a session gig for 8-9 years.
Eventually Stealth disbanded after one member died suddenly. Her friend Flo Shustack asked her to join her klezmer band called Take the Oy Train. Darcy North was playing accordion in that band.
Kitchin says, "I didn't know any klezmer at that point. I asked Darcy to come over and work through the music with me. It turned out that Darcy and I had so much more music in common. I don't even know how we figured out what we knew."
Now they have a substantial repertoire of shared music that they work on. The material ranges from Eastern European music to gypsy jazz and tangos. Kitchin defines the music as 'world beat' and explains, "Darcy started digging up notations so that we know that we're playing close to how it was written and just to double check our memories. We've been together as a duo for about three years and we play several times a week."
Fromage Chaud plays a wide variety of events and are all ages friendly. They've played private events, corporate events, weddings, birthday parties and all sorts of multi-cultural gatherings.
Another major source of audiences for Fromage Chaud is busking. Kitchin won't reveal her most treasured busking location but she says that it is in an area where many families go to relax. They hear the music and are drawn in by familiar melodies or styles of music. Kitchin says, "Besides all the kids that like to dance to our music, we have had all kinds of adults break into dancing around us."
The music scene in Calgary has exploded for which Kitchin is happy but she has some reservations about aspects of the scene. One of her major concerns is the lack of space for developing performers to play. She explains that most jam sessions now are restricted. She says, "People used to all get on stage together. Nobody signed up and it was a lot more friendly. The jams were a way to find people with talent and if you couldn't play, you just sat down. Everyone was welcome."
She adds, "Now the jams are a little bit odd.  You sign up and they give you a limit of three songs. I don't care for that. They've  lost a sense of  interaction now."
Ultimately Kitchin finds motivation from the different gigs and events that she plays with Darcy North. She says, "We have to perhaps learn certain pieces which always leads to learning more about the culture of what we're doing. Darcy and I push each other. It's called work and putting a roof over our heads and food on the table."
For more information and to see videos of Fromage Chaud in performance, please visit their Facebook page here.
This musician profile is based on an interview conducted on April 6, 2016 and recorded at that point.


 

LINDA KITCHIN &
DAVE WESTWICK:

Classical & World
Mandolin Music
Linda – mandolin
Dave – mandocello
SHEER MUSIKA:
The little Klezmer Fusion Band


Linda Kitchin – mandolin and fiddle
with Darcy North, Stan Bernbaum,
Tess Bassie and Flo Shustack
TAKE THE OY TRAIN: The BIG KLEZMER BAND

Stealth:
A world dance music band

Linda Kitchin – fiddle, vocals
Cathy Ascroft – accordion, vocals
Rob Newton – flute, whistle, vocals
Dave Palko – bodhran, vocals
Linda Kitchin
& Alex Kodo

It does not get any rootsier than this